Sponsor Bio: The Fury Catamarans Cozumel, Mexico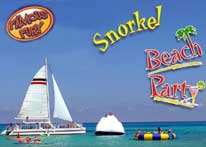 The Fury Catamarans of Cozumel Mexico are by far one of the most popular excursions in Cozumel. The Fury cats are well known for the snorkeling parties aboard the huge 65ft sail boats. The excursion trips are well stocked with beer and margaritas.
The Fury Catamarans have have a fleet of 5 sail boats and sail all thru out the day. Excursions range from snorkeling trips to sunset cruises. Reservations can be made thru the cruise ships or by visting the FuryCozumel.com website.
I can personally attest to the fun that you can have on board one of the Fury Catamaran sail boats. If Cozumel is in your upcoming vacation plans be sure to book a trip with the Fury Cats.
Thanks to the Fury Catamarans once again for for sponsoring my cycling season.