Hi, and welcome to my cycling website. My name is John Finney and I live in Davidson, N.C. just outside of Charlotte. I moved to Davidson several years ago with my wife and 3 dogs. Once we moved in it sure didn't take long to realize that this was a Bike Friendly town. It seems as if everyone rides a bike for fun, fitness, competition or even to work.
Shortly after moving to Davidson, I turned 39 and decided to go get a physical from my family doctor. Forty Five minutes into the physical my doctor asked me if I was feeling OK. He then told me that I had a irregular heartbeat and wanted to admit me overnight for further test. After my initial shock, I quickly let him know that came in for a physical and planned to walk out and go back home. He agreed to let me go but insisted that I follow up with a cardiologist. Well this consisted of a check up, blood work and a stress test of walking up a tread mill. I had no freaking idea that I had allowed myself to get so badly out of shape. Most all of my life I participated in athletics from football, basketball, kickboxing, softball, wrestling, track and field. Now here I was about to die on a treadmill at 215 pounds.
The good news… I passed the stress test. It wasn't so much about being in shape as it was checking blood flow with the heart under stress. The bad news is my blood test came back and my cholesterol was at 333 which apparently was sky high.
The doctor prescribed me to Lipitor and had me come in a few times to check my blood. About two months into the Lipitor he pulled me off and told me that it was affecting my liver in a negative way. He then put me on Crestor which I still take today.
During my visits to the cardiologist I verified that I was in good health and could get myself back to the YMCA. That's when my health got back on the right track. I went to the gym almost everyday looking to workout, run, play pickup basketball and lift weights. Anything to stay motivated and keep my head in it was all that I needed. Soon I signed up for 'Spin' classes. The Spin class consist of riding a stationary bike to aerobic like workout music. I found this a really great workout and slowly but surely was able to ride hard thru the whole class. The next thing I knew I was dropping weight. I was feeling better and better everyday. I continued the spin classes multiple times a week for well over a year.
Several class attendees were always asking me if I had a rode bike and invited me to some of the local rides. I finally got talked into doing this by a friend at work. I went to a local bike shop (LBS) and rented a bike to ride my first 60 mile event in Concord, NC. It was the inaugral Tour De Tots. This turned out to be a lot of fun but holy crap I wasn't prepared for all the hills. In the end I was hooked and couldn't wait to go to the next ride. Well, I did wait mostly because it was winter time. As soon as spring came I had landed a great deal on a Scott S20 Speedster that a fellow worker had bought brand new. I lucked up and got a "Divorce Deal". It was had to turn down paying $600 for a bike I watched him pay $1800 for only a few months prior. That bike had 200 miles on it and was like brand new. Today it has well over 3000 miles and rock solid.
My first season riding on the road I was able to participate in about six local events including the BreakAway to the Beach at Myrtle Beach, SC. This was a two day 150 mile event. I am now in my 9th year of riding and have about 100 local events under my belt as well as the Assault on Mt. Mitchell. Mt. Mitchell was the hardest thing I have ever done as far as physical endurance and will power goes. I picked the hottest freaking day at over 100 degrees and I'm pretty sure I died and reincarnated several times that day. All that matters is that I finished it. I wont brag about my 11:43 time at the finish line, but hey I DID FINSIH IT and I got a Mt. Mitchell Patch.
Another great local event in our area is the local time trials at Lowes Motor Speedway. The Carolina Time Trials Organization host the event series each year. The time trials consist of 10 mile and 40k events. Several local bike shops participate and riders come from several hours away to compete against each other and the clock riding around the speedway.
In my first full year riding in the series I competed in the Men's 40-44 division. We had a total of nine events scheduled but one was cancelled due to lighting. My first two events were pretty slow compared to others in my division. I figured out that the Scott S20 wasn't going to cut it if I wanted to get better. I went to my local bike shop Spirited Cyclist and got myself dialed in on a new Time Trial bike. Man, what a difference this made. Almost instantly I started picking up time. The first time out was more of a learning curve trying to figure out how to ride in the time trial position. Fortunately there are places close by like the Hunersville Business Park that riders can go and practice riding. Thru out the 2008 season I finished 1st two times, second three times and 3rd and 4th. This age division ended up being a tight race with some closely matched riders. I am happy to say that I ended up finishing in 1st place as the series champion.
Since, I have completed several more Time trial seasons, winning first place in multiple categories. I have also completed rides including Blood Sweat & Gears (BSG), Blue Ridge Brutal, Cycle NC, a 530 mile 1 week long ride from the mountains to the coast of North Carolina. I had the honor of riding the the Charrlotte Mcklenburg Polce departmnet on their annual Bike to D.C. evet.
In 2013 I took up the challenge of competing in Triathlons. Yeh, the whole swim, bike, run thing. Sounds easy right? Let;s just say the bike part was, and the swim and run parts were a huge blow to my pride. I had to relearn how to swim and run all over again. In total I competed in 20 Sprint triathlons and 1 half distance triathlons my first year as a triathlete. The triathlon events are exciting and very challenging and a lot of fun.
Well, sorry to bore you with my riding story but hey, that's what got me here today and that is why I have this site. I want others to see that you can make changes in your life. Don't let your health fall. Stay active and exercise. Be open minded and try different fitness activities. TRY BIKING. It is by far a great way to get in shape and stay in shape. I have lost 40 lbs in 2 years. Most importantly my cholesterol is under control now. I hope that my story inspires others and I hope to hear your feedback.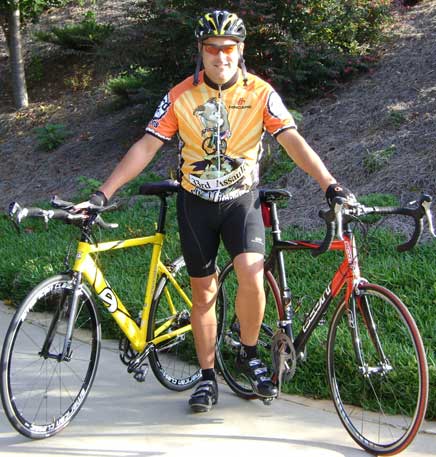 Please enjoy my site and visit again soon.
Your cycling friend,
John Finney